"Live in the sunshine, swim in the sea, drink in the wild air."
-Ralph Waldo Emerson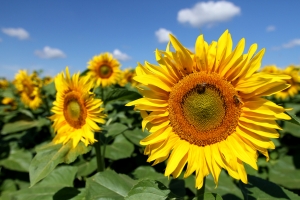 Like a carnival of color and activity, the Summer season sweeps in bringing luxurious growth, abundance and vigorous activity in the natural world!  In this time of warmth and plenty we also are invited to maximize our own growth, expansion and joy.
How can you best keep in step with the rhythms of summer and maximize your health? Check out the following to get started…
SOAK UP THE SUMMER SUN
According to Traditional Chinese Medicine (TCM) the sunny summer season is, perhaps not surprisingly, associated with the element of fire. What does this mean for us? The appropriate tilt of the earth and the resulting long, warm days give us a wonderful opportunity to reap some of the benefits, verified through research, of safe sun exposure during the short summer season…
Boosting Vitamin D Stores– Technically a hormone, Vitamin D is essential for life and must be taken in via food or manufactured by the body during sun exposure. Adequate Vitamin D levels are necessary for supporting healthy bone, muscle and neurological function and provide powerful mood balancing, antioxidant and anti-inflammatory actions.  In just 30 minutes of midday summer sun exposure, the body can produce up to 50,000 IU of Vitamin D in a fair skinned person! In those with darker skin pigmentation, it may take up to 2-3 hours to produce the same amount of Vitamin D. Individuals with sun sensitivity, kidney or liver dysfunction or those engaged in shift work may have difficulty producing adequate Vitamin D and require supplementation. The same is true for those living 37 degrees north or south of the equator during winter months. If any of these apply to you, it is STRONGLY RECOMMENDED that you consult a doctor for regular testing (every 3-6 months) and use a balanced Vitamin D supplement as needed. Why is testing important? Many individuals are deficient in Vitamin D and excess supplementation of Vitamin D can lead to toxicity via an increase of calcium in the blood and subsequently nausea, vomiting, weakness, frequent urination and kidney stones.
Improving Heart Health- Sunlight stimulates the production of a chemical in skin called Nitric Oxide. Nitric Oxide helps to relax and dilate blood vessels and thereby lower blood pressure, which is one of the strongest risk factors for heart disease. No wonder we all feel more relaxed after a sunny getaway!
Improving Immune Function – At latitudes closer to the equator where populations are exposed to more intense sunlight, rates of lymphoma, breast, prostate, colon and ovarian cancers as well as autoimmune conditions including Multiple Sclerosis, Rheumatoid Arthritis and  Type 1 Diabetes are significantly lower than in populations living further from the equator with less sun exposure. Increased exposure to sunlight has also been linked to lower rates of  asthma as well as viral and bacterial infectious diseases. What great reasons to enjoy some summer rays and help support your immune system in the process!
Note: It is strongly recommended that after 20-30 minutes of midday sun exposure or your skin becomes flushed, to cover up if you'll continue to be outside. If you'll be uncovered while swimming for prolonged times choose a clean sunscreen that utilizes non-nano zinc oxide such as those found here. Most sunscreens commonly found at grocery or drug stores contain toxic chemicals that can cause cancer and negatively affect hormone function. Yikes!
EAT LIGHTLY TO CLEANSE AND COOL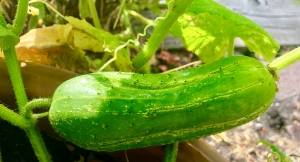 "Cool as a cucumber" is an apt phrase when we consider food medicine in summertime. Cucumber, melon, lettuces, sprouts, berries and citrus fruits all contain high volumes of water which aids the body in cooling and detoxifying. Conversely excesses of meat, eggs, nuts, seeds and grains tend to cause sluggishness, fatigue and overheating. Therefore it is best to plan your meals around light, fresh and local produce if possible.  If you aren't already growing some of these foods in your own garden, they are usually readily available at your local farmers market or farm stand. So get out and enjoy the healthy bounty of summer!
HARNESS THE POWER OF CULINARY HERBS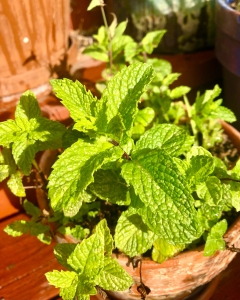 For many folks, when they think of cooling herbs, various mints might come to mind. Perhaps you've enjoyed the incredible cooling effects of a glass of mint tea on a hot summer day….or more decadently some mint-chip ice cream! Why do we feel cooler when consuming mint? Mints contain a natural chemical called menthol that triggers cold-receptors in the body and thereby creates a cooling sensation.  Ahh!
Perhaps less well known, is the power of hot natured spices such hot peppers, cayenne, fresh ginger, horseradish and black pepper to cool the body. While this may sound counterintuitive, these potent herbs induce sweating, thereby cooling the body…and adding lots of flavor in the process! It's also noteworthy that most culinary herbs contain powerful immune and digestive boosting components so try to include at least one of these on a daily basis to reap the benefits!
CULTIVATE JOY!
In TCM, the summer season is associated with the heart and the emotion of joy in particular. With the extended daylight hours and slower pace, this is an ideal time to reflect on and include activities and connections that energize and bring you joy. Why is this important? Research continues to affirm what many of us know intuitively, that how we spend our time and who we spend it with has a significant impact on our quality of life. So how can you build up your storehouse of joy that will keep giving in the seasons ahead? You might consider the following…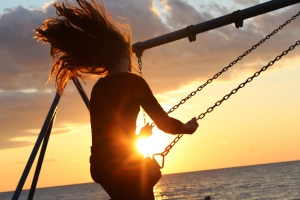 1.What activities make me feel alive and joyful and how can I purpose to include these in my life on a regular basis? This might be a favorite sport, art, craft, project, music, dance, outdoor adventures, gardening, inspirational books or podcasts, volunteer opportunities…
2.What people help me cultivate joy and contentment? How can I regularly plan to connect with these folks in meaningful ways such as book clubs, shared meals, weekly walks or spiritual enrichment groups?
3.How can I change my work or home space to create a more joyful and pleasant environment? You might consider; reducing clutter, adding houseplants, including inspirational artwork,  changing furnishings or detoxifying your space (for tips on how to get started explore here).
4.How can I incorporate a daily gratitude practice into my life? The posture of gratitude has been shown to be incredibly healing, cultivating perspective, contentment and renewed purpose. Try setting aside a few minutes of time in the morning, at a meal or before bedtime to reflect on and speak out what you are grateful for that day. You might also consider developing a written or art based gratitude journal. Having a visual record of things for which you are grateful can be especially helpful, hope inducing and inspiring to look back on in the midst of challenging seasons.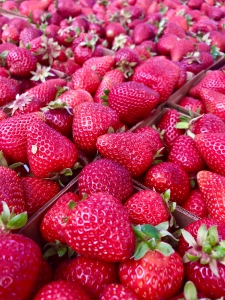 How will you choose to embrace
the invitations of summer today?!
In need of support? We'd be happy to help! 
Contact one of our staff to set up an appointment today!
https://kairoscw.com/wp-content/uploads/2015/11/Kairos-logo-web-header-v2.png
0
0
Bianca Schmidt
https://kairoscw.com/wp-content/uploads/2015/11/Kairos-logo-web-header-v2.png
Bianca Schmidt
2021-08-19 10:20:24
2021-08-19 10:35:09
Soaking Up Summer's Splendor